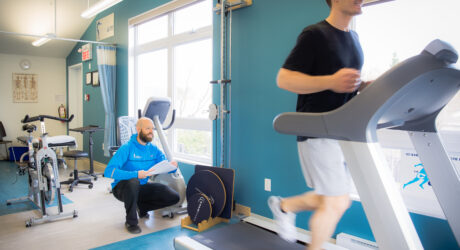 Running gait analysis
Dr. Simon-Michel Bélisle, chiropractor, offers a running gait analysis service at the clinic. Whether you're a recreational or competitive runner, an analysis of your running pattern could be beneficial to you. This analysis makes it possible to check if your stride and movements are optimal and to improve your performance while reducing the risks of injury.
A running gait analysis is particularly important following an injury related to this activity, as it allows us to check for possible weaknesses associated with it. The running gait analysis is done on a treadmill and is filmed by Dr. Bélisle. After having analyzed your running, you'll be prescribed running tips to help correct posture, different rhythm techniques or form on how your foot hits the ground. He can also advise you on the purchase of your running shoes. After the analysis, a written report and video commenting analysis will be sent to you via email.